Bristle Ridge is located at Pacdal Road, Baguio City, Cordillera Administrative Region, 2600.
The stunning community development of Bristle Ridge Residences is specifically located at Pacdal Road of the striking City of Baguio. When you are investing for a home, one of the top aspects would be the location. In that case, Bristle Ridge Residences is like winning the grand lotto with its immeasurable beauty and accessibility to the various necessities of the homeowners. Baguio City is the ideal place to be if you are the type of person who would enjoy the cold temperature and amazing views. This place is packed with tourist spots that will make you appreciate the simplicity of life. It's also very easy to access with varied transportation options. Not only that, it will only take you an hour or so in reaching Metro Manila and other key cities given the numerous routes you can take. The Loakan Airport is also such a convenient mode of transportation for those have their businesses.
The most visited places here are full of entertaining and informative locations which will enrich your knowledge and satisfy your wanderlust. Some of the most notable tourist spots are the Mines View Park, Wright Park Riding Circle, The Mansion House, Burnham Park, Camp John Hay, Baguio Country Club, Baguio Botanical Garden, and a whole lot more. Just going around the city is already a treat given the lush greeneries and chilly weather.
As for your growing family, the education you would get here is truly top-notch given the numerous options of prominent schools and universities. Bristle Ridge Residences is nearby Berkeley School Baguio, University of the Cordilleras, University of the Philippines-Baguio, Brent International School Baguio, and University of Baguio. Your children's future is now assured through these high-quality education choices you've got.
When it comes to having fun and entertainment, Bristle Ridge Residences has got your back as well. It's just in close proximity to commercial establishments such as the SM City Baguio, Baguio Center Mall, Abanao Square Shopping Mall, Maharlika Mall, and Baguio Sunshine Mall. Those will definitely fill up your shopping needs. As for your groceries and other stuff, you can visit the Baguio City Market and others.
For medical needs, health, and emergencies, various hospital institutions and medical centers are just around the corner. In a matter of a few minutes, you can choose from St. Louis University Hospital of the Sacred Heart, Fil-Chinese General Hospital, Baguio Medical Center, Baguio General Hospital, Notre Dame De Chartres Hospital or Pines City Doctors' Hospital.
For your spiritual enlightenment and motivation, Bristle Ridge Residences has a lot of nearby churches and places of worship. Some of them are Saint Joseph the Worker Parish – Pacdal, Our Lady of the Atonement Cathedral, Immaculate Conception Parish Church, Divine Word Parish, Good Shepherd Sisters - Baguio Community and, Church of the Nazarene - Pines City.
All of these are greatly helpful for you to suit your needs. Bristle Ridge Residences has the impeccable location bringing you all the convenience you can have in your daily living. Invest on place where you get to have it all. Invest with Bristle Ridge Residences.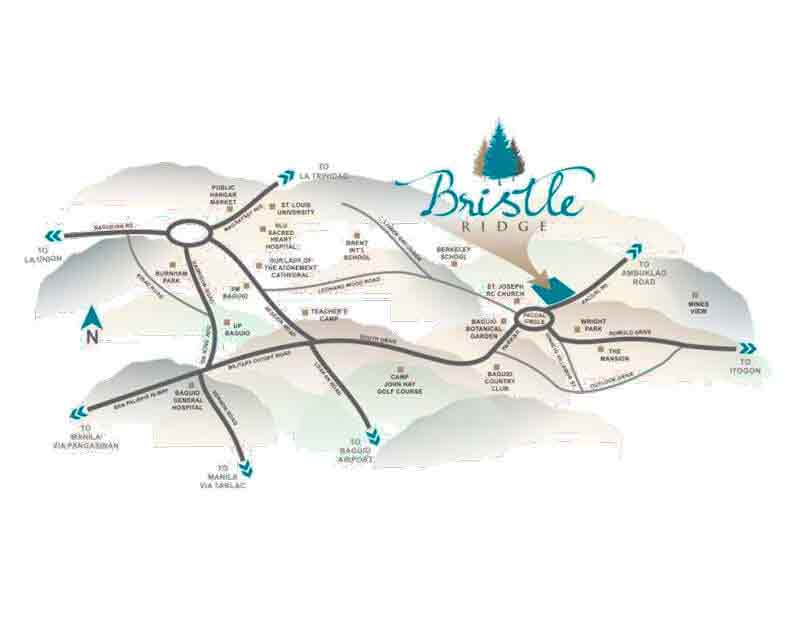 The DMCI Bristle Ridge is the only condo in Baguio City that offers affordable luxury and an ensemble of world-class amenities and facilities. The cool weather, friendly fog, and hues, and the pine scent that engulf Baguio City are what inspire its residents to live a life of comfort and utmost convenience, add to it is the elegance and majesty of Bristle Ridge.
This condo in Baguio City is a medium-rise residential community overlooking the city's mountainous terrain. The city mesmerizes everyone who wants to live a life of distinctive environment and away from the searing heat of the metro. Just a 3-hour journey from Manila, Baguio City is where adventure, culture and the arts, fine cuisine, and wholesome entertainment and leisure, converged. A favorite destination of tourists mostly from the lowlands, Baguio City offer not just great weather, but also some of the city's historical sites engraved in a beautifully crafted natural environment and etched in a cool breeze.